Universal crawler set for motorcycles. A tracked motorcycle is a single-track snowmobile. You get the opportunity to extend the season and operate the motorcycle not only in summer but also in winter.
Included with the kit:
– crawler module complete.
– ski module complete.
Snowbike KIT is an excellent option for motorcycle rental, the opportunity to increase the season and profit. In addition, snowbikes can be used to organize tourist routes on the territory/excursions.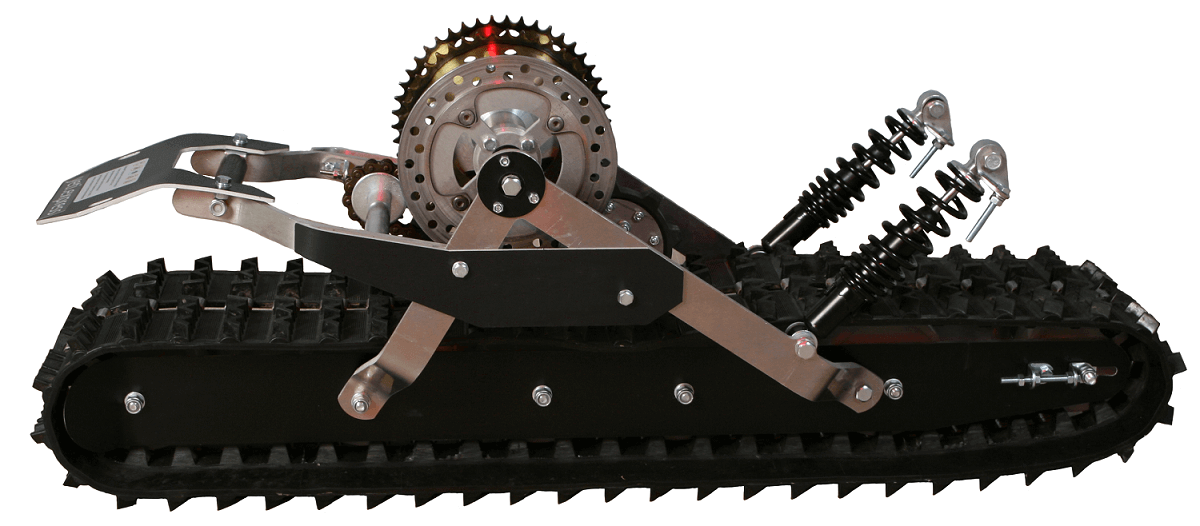 FEATURES:
Rear module weight only – 23kg.!!!!!
Weight of the front strut and ski – 3kg.
Dimensions of the track module – 1006x300x400 mm.
Track – 2220×220 mm.
Ground clearance height – 20 mm.
Ski – 1050x180x240 mm.
Thanks to the frame design and a single row of support wheels, the snowbike handles like a motorbike. Turn in place in winter on hard snow, in summer on the ground or asphalt.
The module works on all makes of Kayo pitbikes, BSE, APOLLO, and other 125-190cm3 pitbikes.
Easy mounting. The pitbike is not disassembled when the module is installed. The module is easy to install without professional skills. Approximate installation time 15 – 20 minutes.
Do you still have questions?
[contact-form-7 id="5050″ title="Snowbike KIT listing"]