Emotions on fishing
In continuation of the previous post about the first winter fishing, I share the video report. Fishing is not the most extreme activity, but nevertheless I experienced emotions for some reason ))).
More in this long ride is not for professional fishermen )).
After the last post, there were, as always, many questions and objections about the advisability of using an electric snowmobile for fishing. Therefore, I will try not only to talk about the use of snowmobiles for fishing but also to answer your questions.
For a long time sought to test an electric snow scooter in winter fishing conditions. I always thought that this device is perfect for such a task, but of course, I was wrong. But, in order.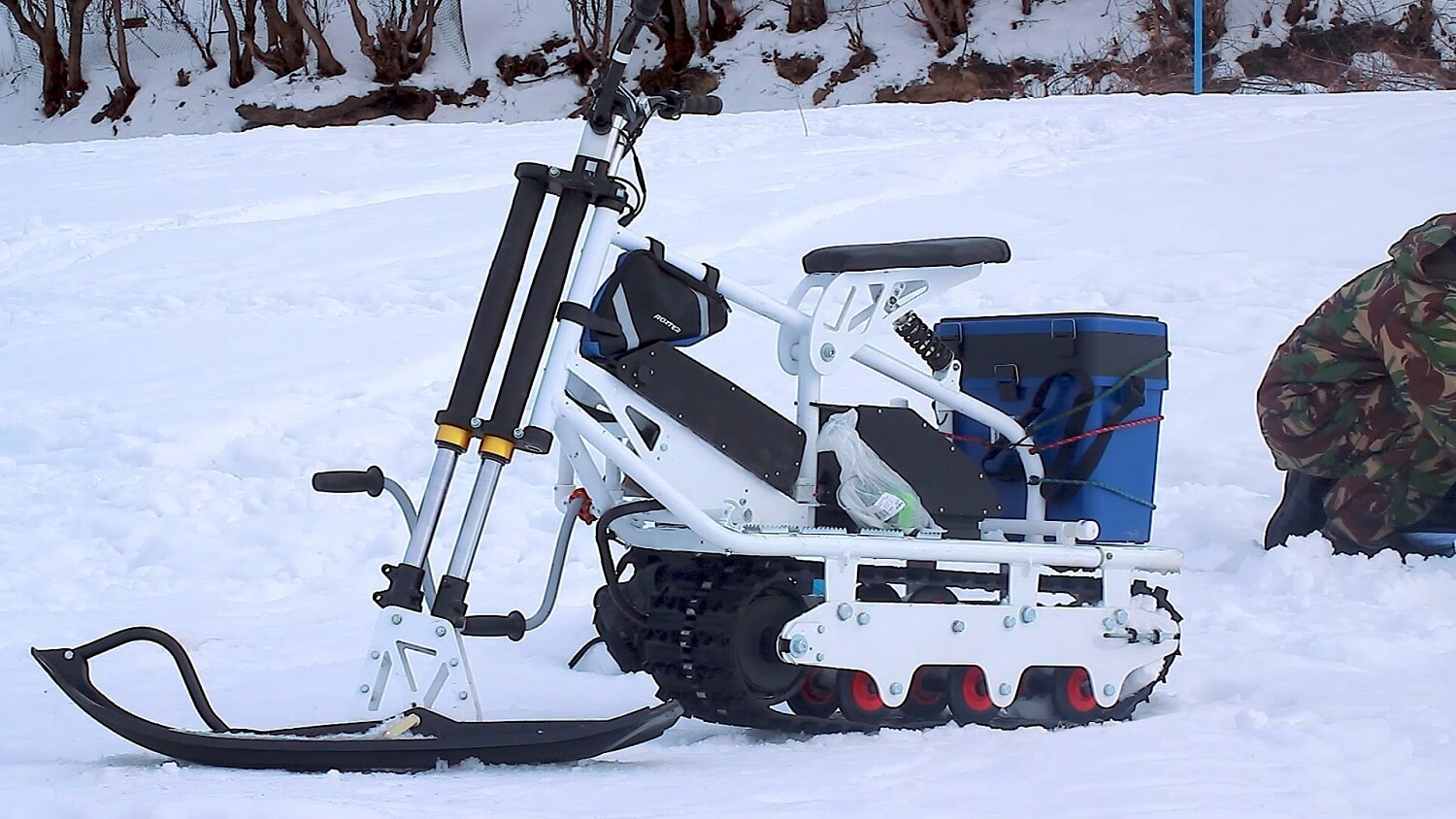 He is not a fisherman himself, so there is no equipment for such a hobby, maximum warm pants, and boots. Never, in general, is it not a burning desire for fishing, I always felt as a child that fishing is a too boring activity. But I still participated if my friends were called.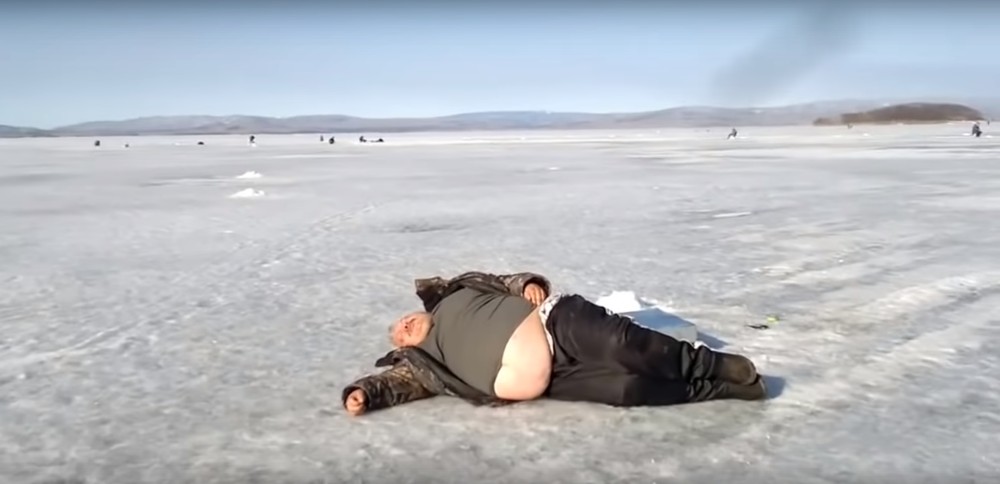 As an adult, of course, he stopped attending at all. And the saying "… something to be able to fish, pour and drink" somehow repulsed. Of course, I understand that not everyone drinks on fishing, but, nevertheless, the stereotype somehow too deepened in consciousness. Anyway, at that point, I decided it wasn't mine.
But recently I met an old friend, who is still passionate about winter fishing, and so much so that his stories about adventure made me rethink the process a little.
Immediately introduced myself on a fishing trip )))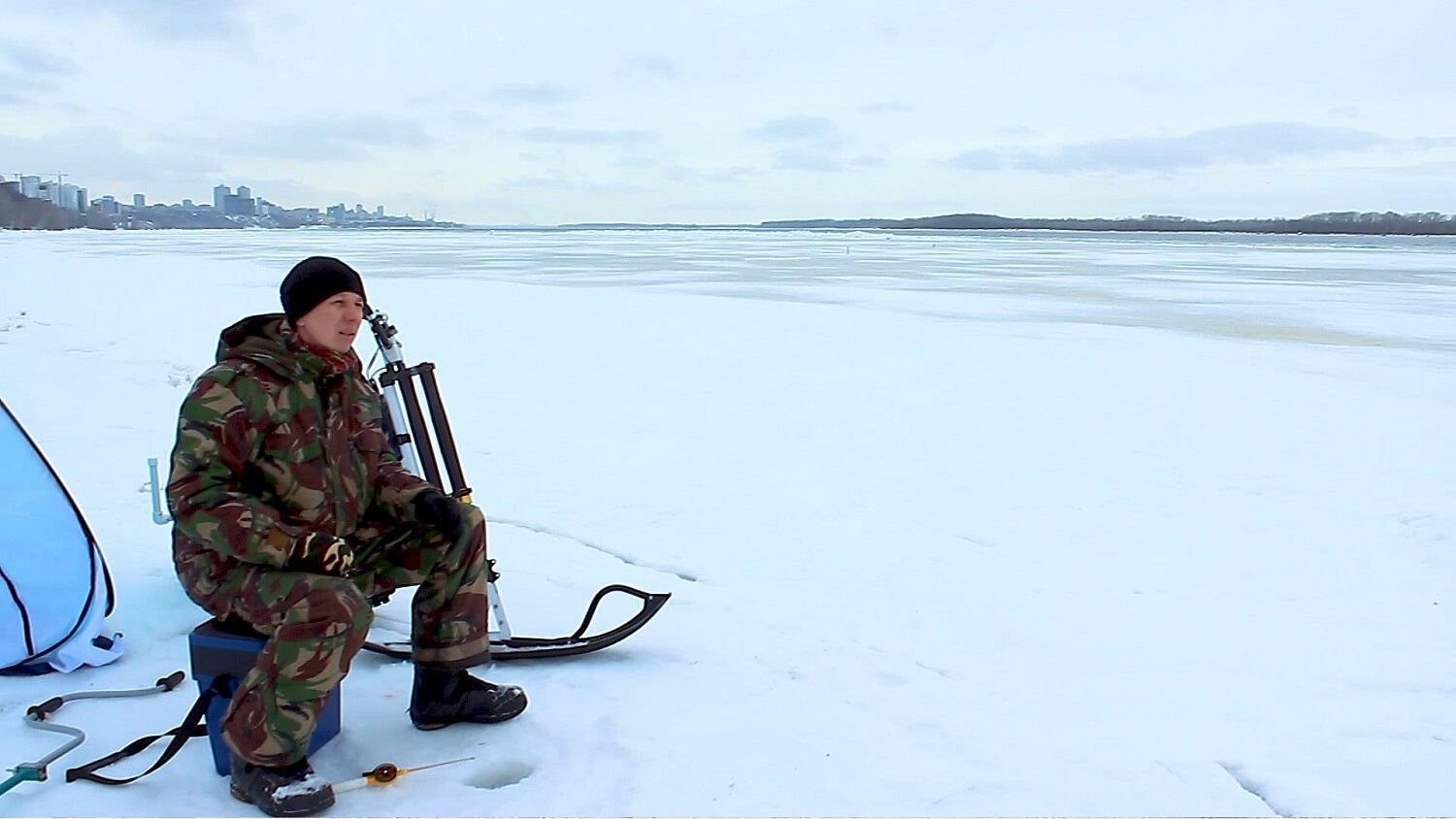 So I took a friend, an operator and of course a bunch of equipment and an electric snowbike. Not a lot of equipment, of course, but still a lot. There are a fisherman's box, an ice drill and even a tent for the wind.
The question was where to hang it all and how to get it to the hole. And there was a lot of use for the mount I was making for the snowboarding video.
I immediately figured out how to fix the drill to the mount and where to place the rest of the equipment. In general, everything should have been placed quite comfortably, but as always the plans were not destined to come true.
I watched the video, consulted with the fishermen and went fishing.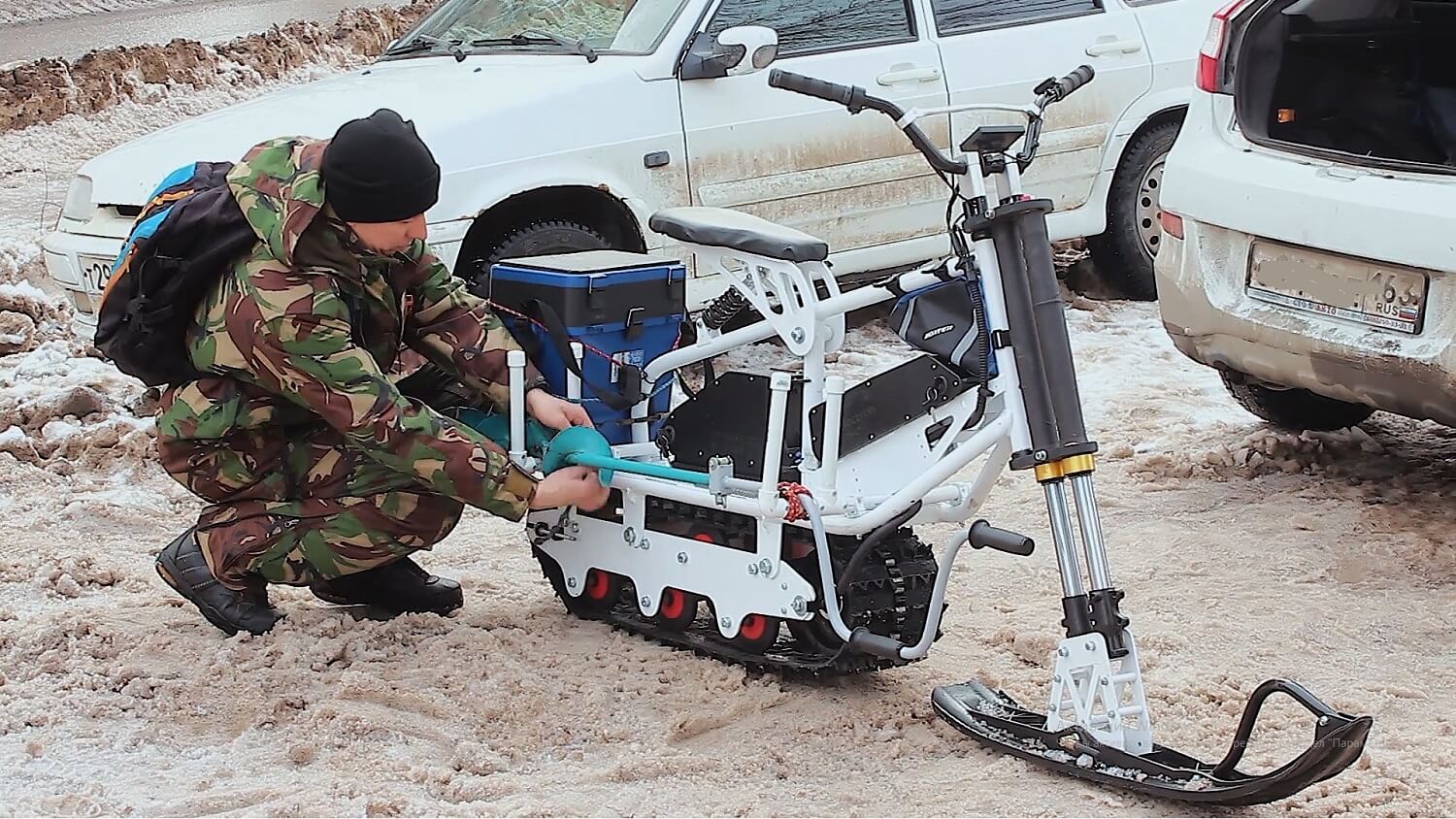 I'll tell you right away that I brought everything in a hatchback car. The car is small but always helps, because you can fold the back seat and put something large back.
It's a good thing that the scooter is disassembled and easily assembled in place, so everything fits without problems, and even left room for shooting equipment and thermos ))).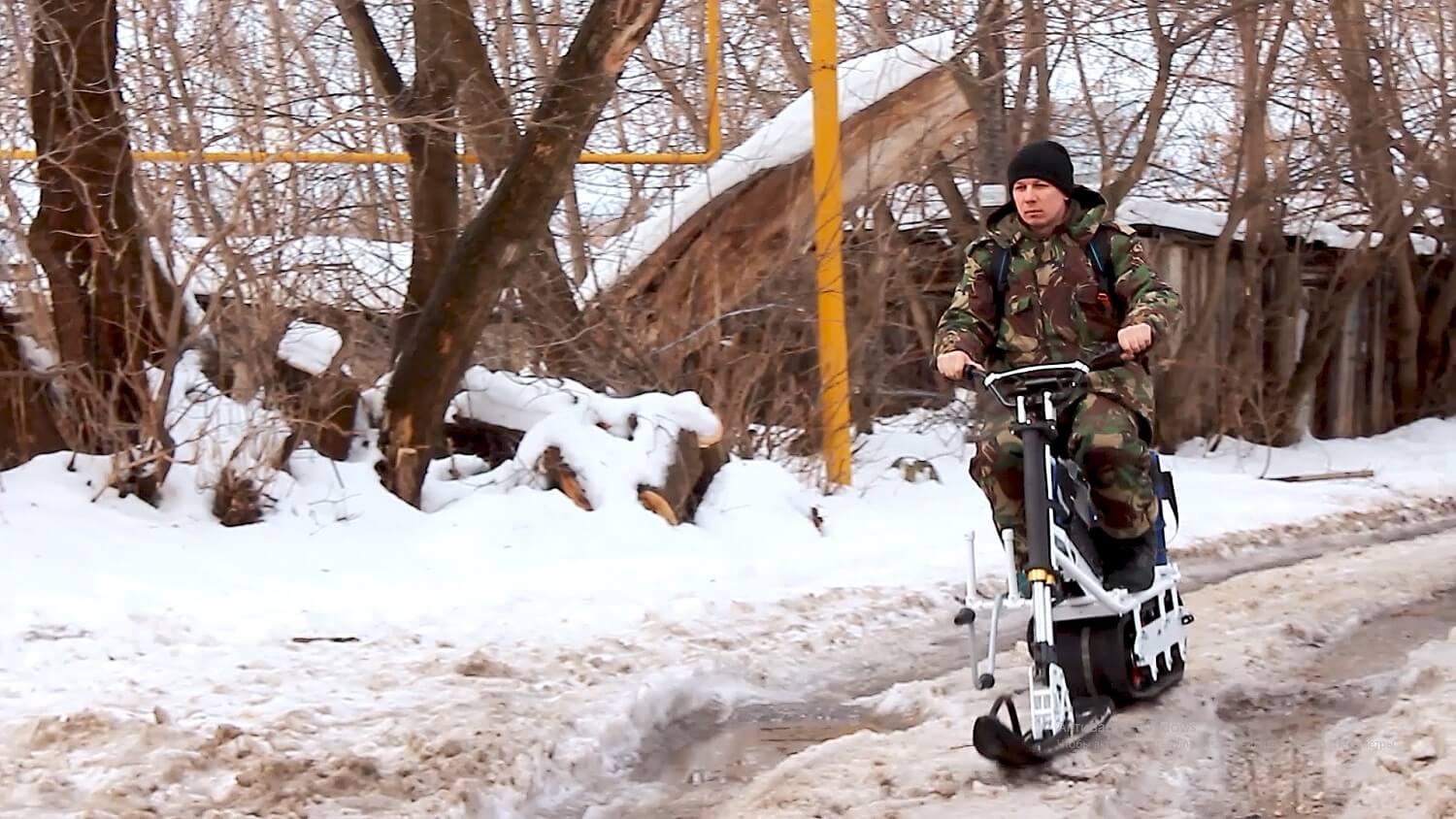 Parked a few kilometers from the pond, by the way. I drove through all the entrances, but everywhere the road is not cleared of snow, and a very large track. And the slopes did not inspire confidence, I was afraid that I would not be able to go back up later.
I decided to leave the car far away from civilization, and to get to the place on a scooter, at the same time to check for suitability on a complex terrain with ice, track, and height differences.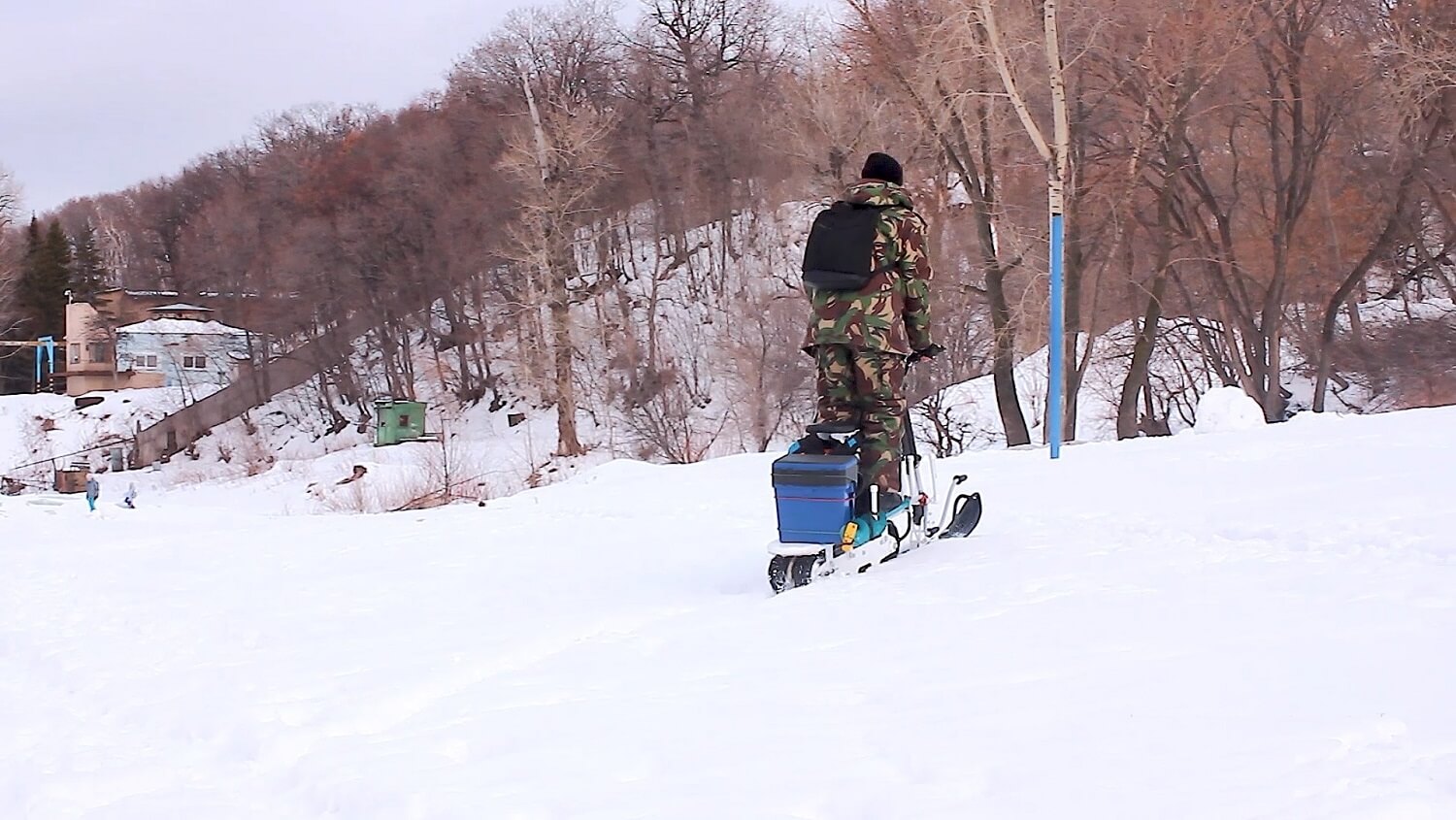 I can tell you right away that I was really surprised when I got to the shore. It turns out that there was no ice on the Volga River this year ((( To be more exact, there was, and even twice, but both times it went down because the winter was so warm in Samara, that the ice never got up, and there was no crossing or fishermen.
But there was nowhere to go, so we decided to stay and check the equipment in such difficult conditions, and we will catch something. )))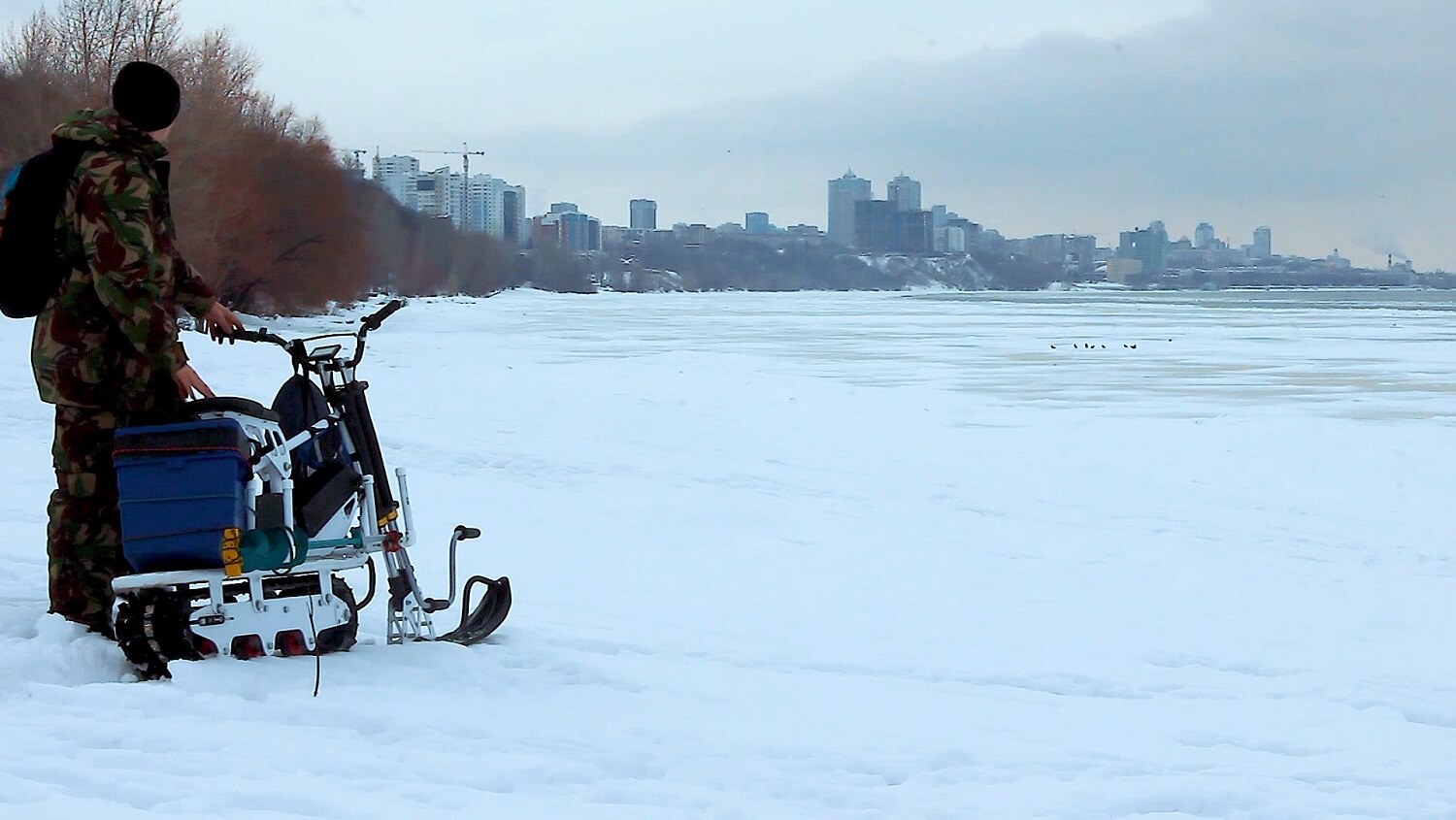 There was still ice 100 meters from the shore, and not even very thin. We chose a place and started to spread out.
By the way, all the equipment quite fit on the scooter. The tent was hung on the steering wheel, the box was fastened from behind on the wing, and the drill was fixed on a long mounting. It wasn't super comfortable to ride, though it was probably not usual, but quite controllable, even with a tent on the steering wheel. While I was driving, I was wondering what extra mounts I could make for extra equipment.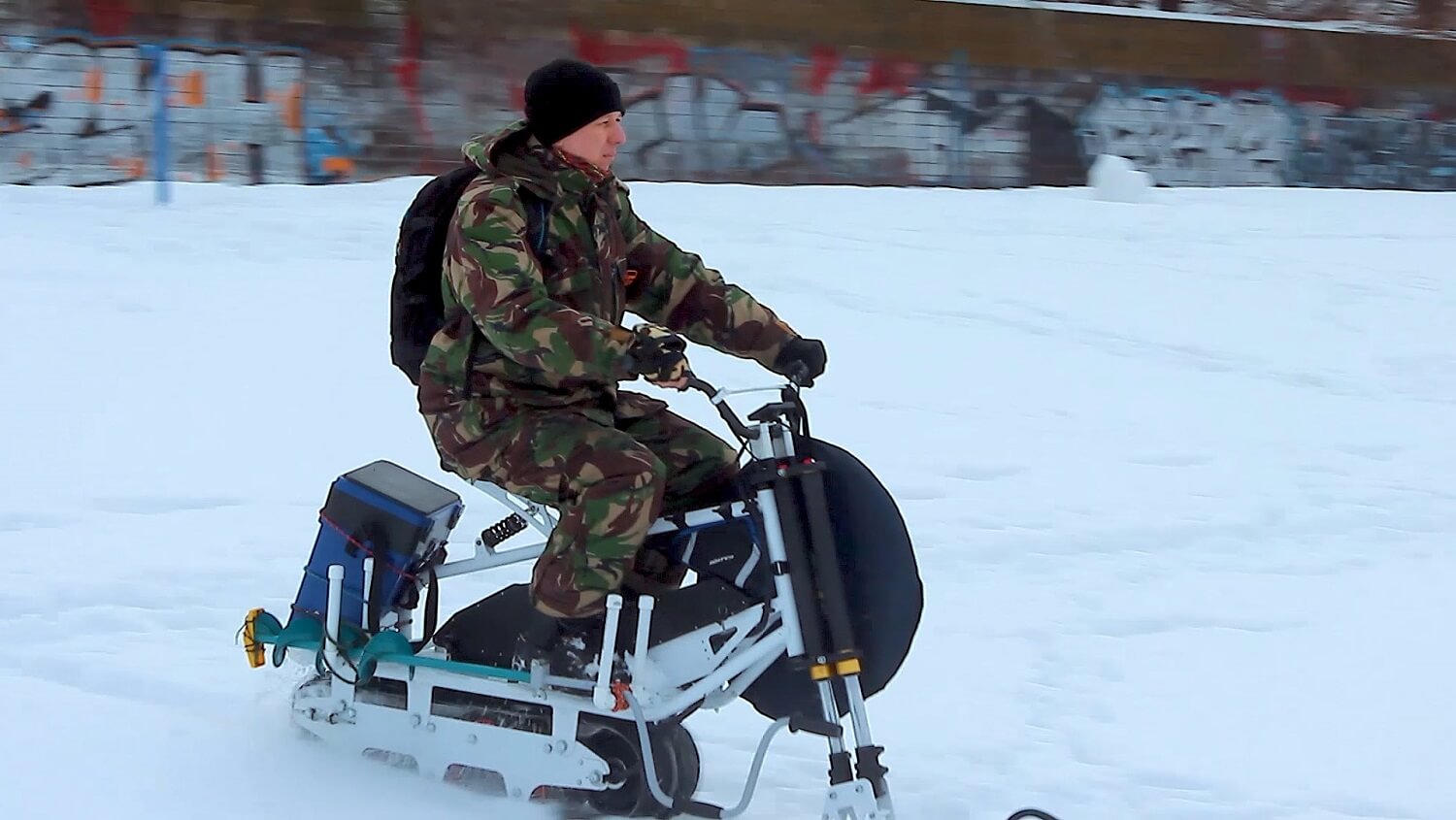 I set up a tent, and I started drilling. I think everybody's going fishing for drilling))) This is the moment when you feel like a breadwinner ))).
It turned out that drilling ice in this weather isn't so easy anymore. There are specific points that require skill. It's a good thing a friend with years of experience helped to figure it out and told me how.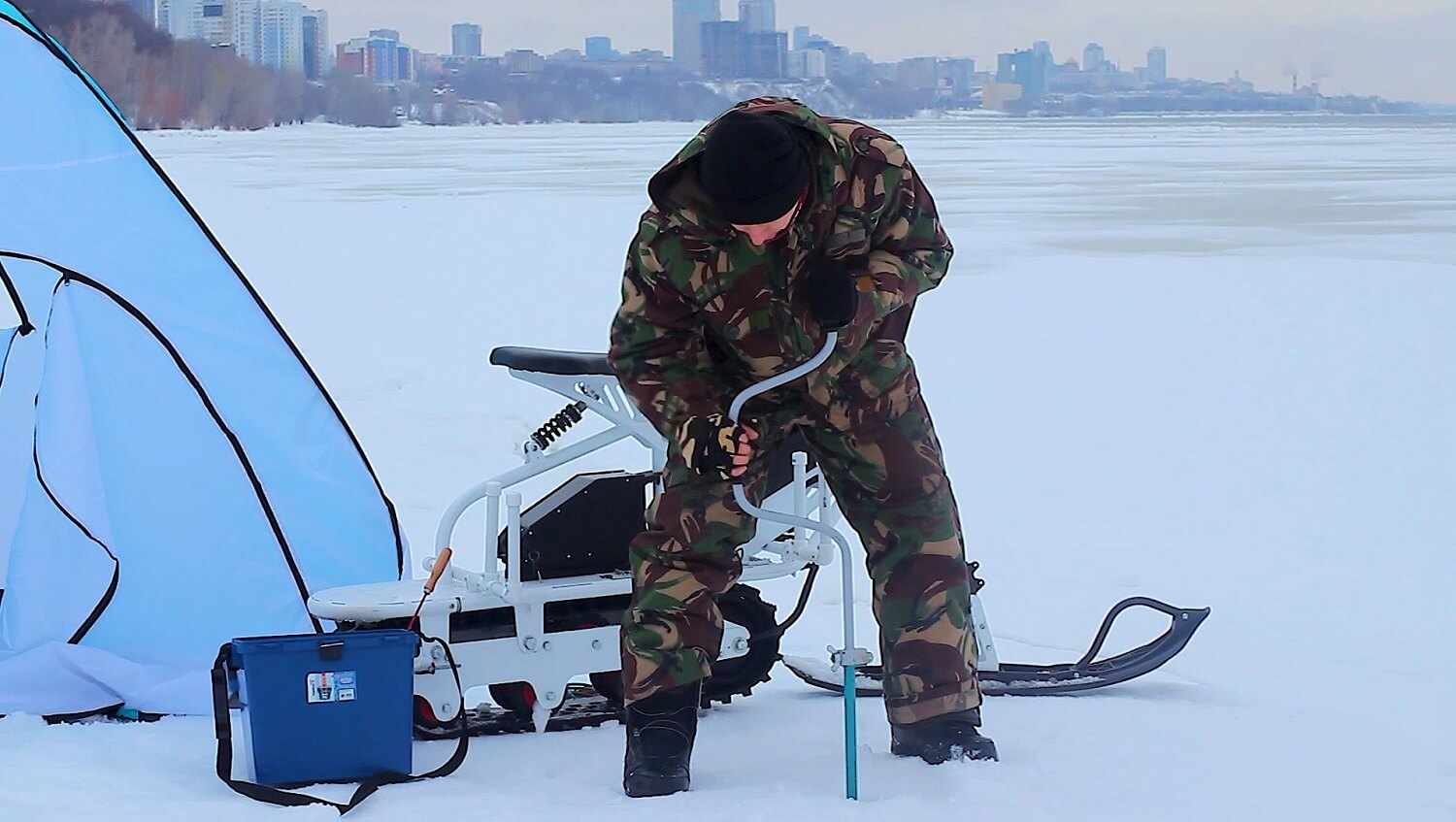 I remembered how to plant the bait, of course, had to freeze my fingers, but again saved the special equipment – gloves.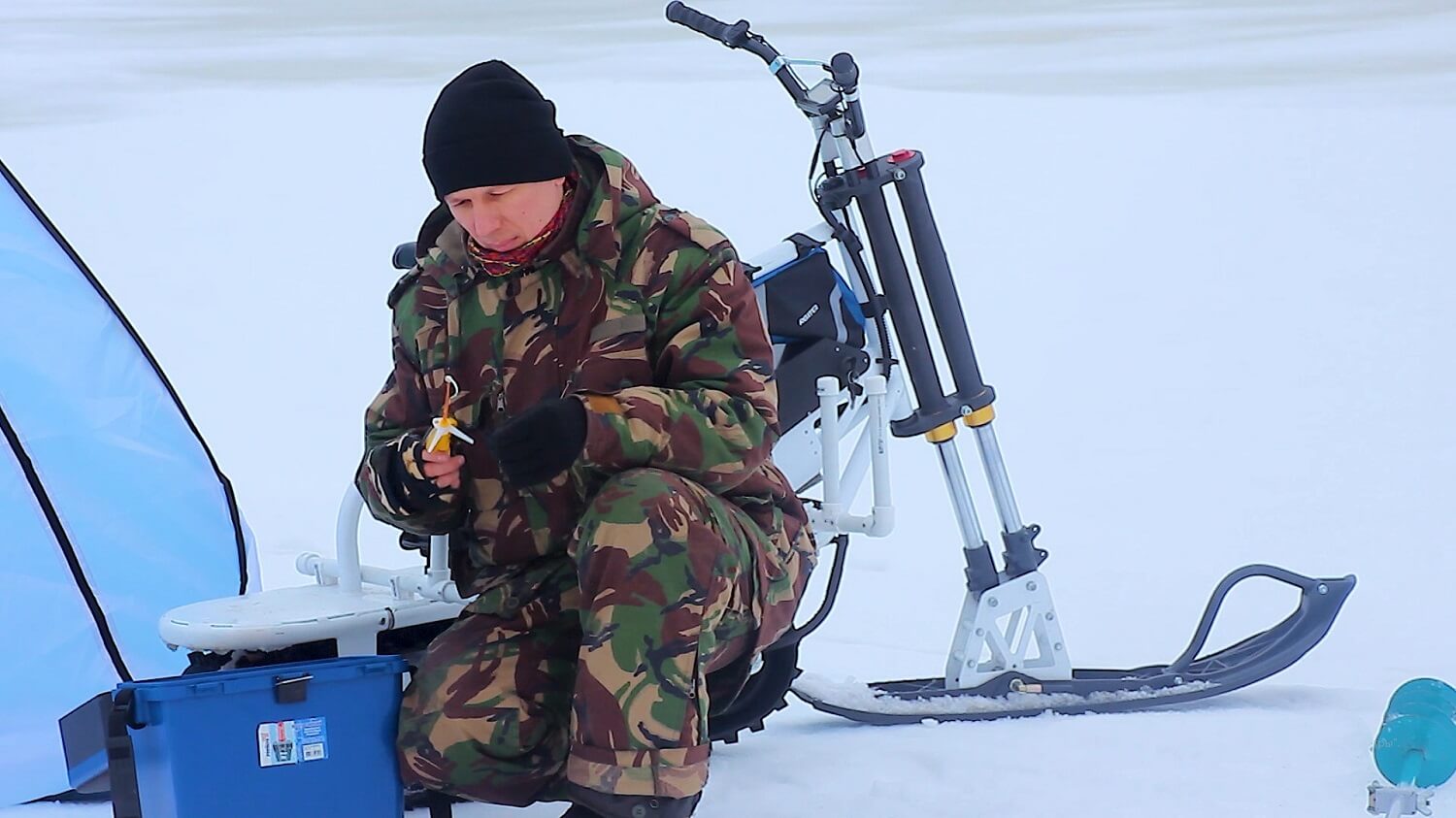 I always found the winter rods strange. Either because they're short or because they're very small. I always wondered how you could catch something big on such a small rod.
By the way, the hole had to be periodically cleared of ice and snow. Saved a special device – ladle with holes ))). Although it probably has a special name among fishermen. If you know, please write in comments, I always forget.
Anyway, I'm ready, the process has begun. Although, in my opinion, winter fishing begins at home when you're just getting ready and not when you put the hook in the water.
I didn't sit for five minutes, when I remembered stories from my childhood, how the guys went fishing instead of school. There were good times, I thought that maybe that's why you need fishing to be alone with your memories.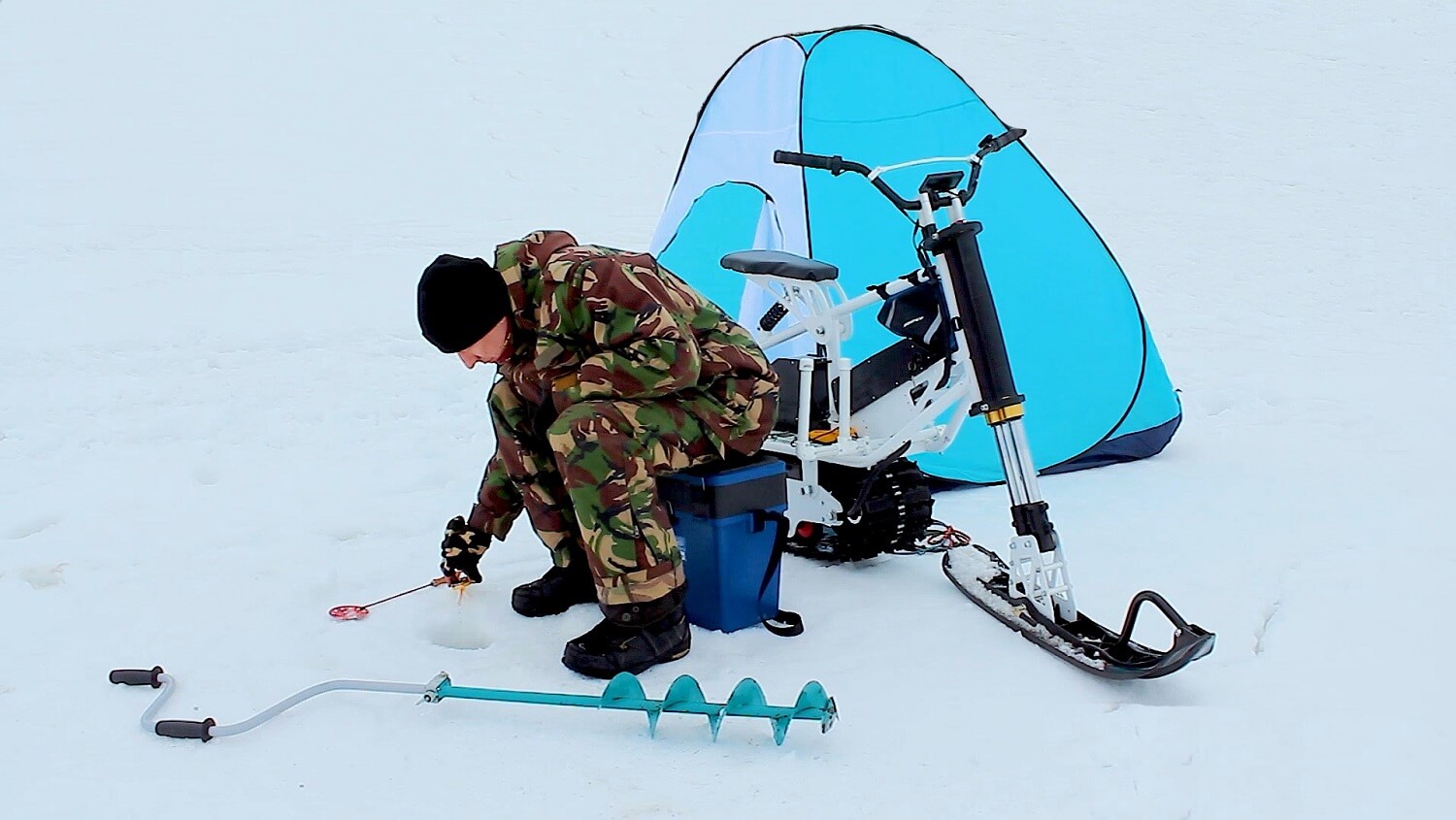 Suddenly I remembered that I forgot the equipment in my car. The cameraman would not drive, he would walk for half an hour at least, would be tired, and that he would then take off evil )))). I ended up walking away on my own in five minutes lightly.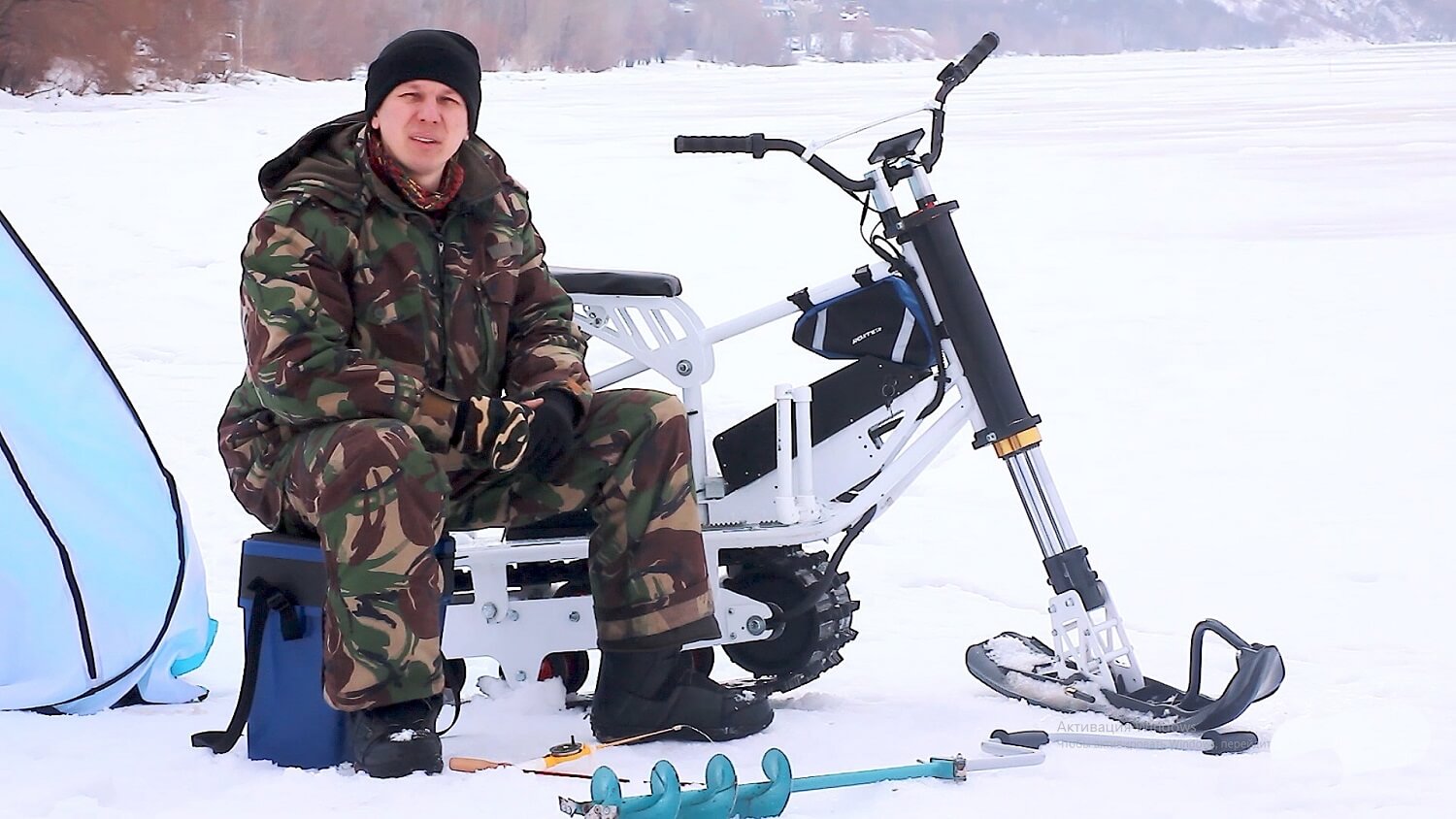 While riding around the car, as usual, attracted a lot of attention. It would seem that in a place wherein general there is nothing to do and no one can not meet passers-by, but I was very wrong. It turns out that "our man" walks everywhere and always. And of course, he is very interested in everything around him, especially in electric snowmobiles, which are not so many not only in Russia but also in the world.
In general, brought to the place of fishing spectators )))).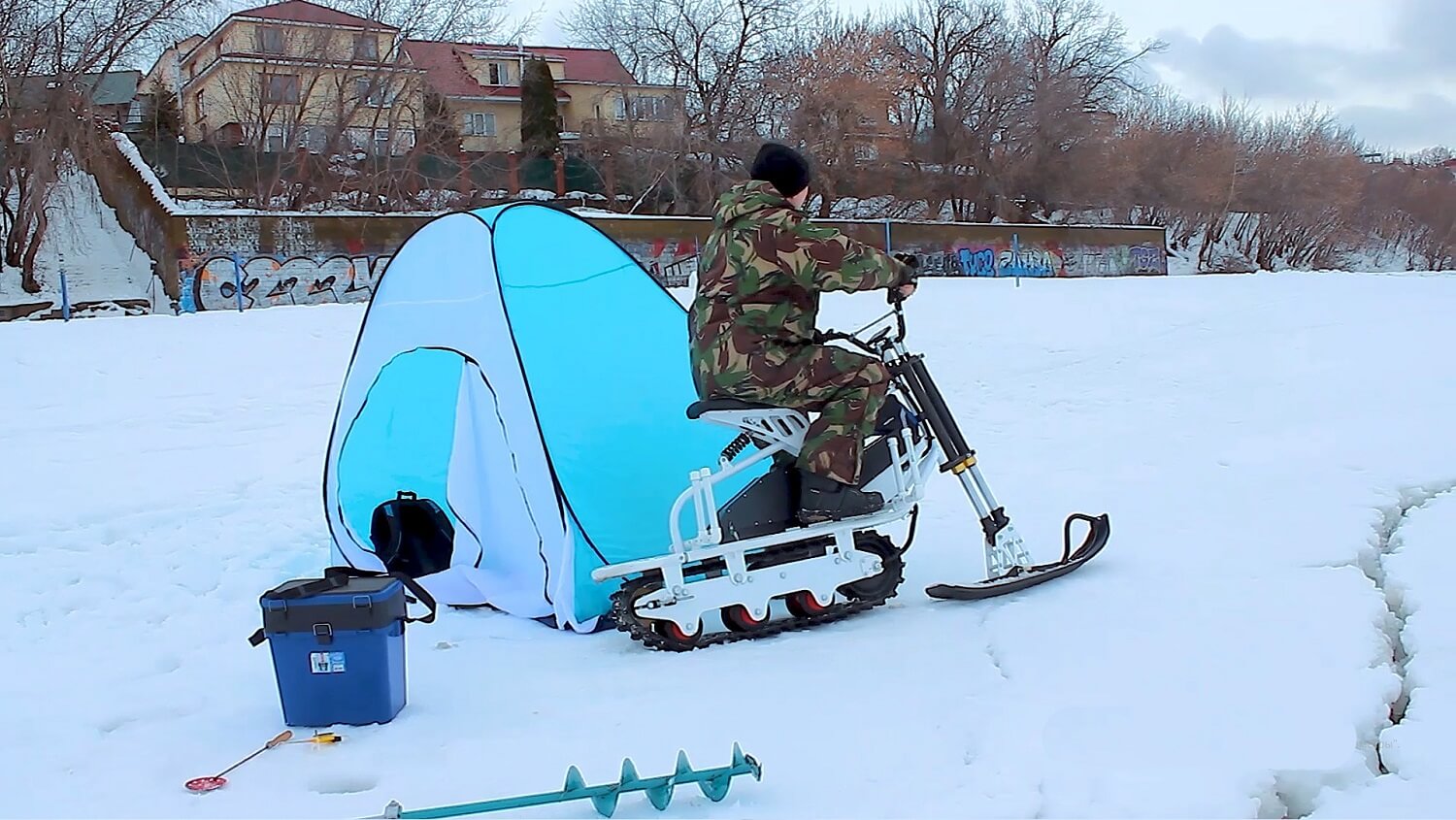 A friend then told me that even on the lakes, where it would seem unmeasured place, the fishermen still get closer to each other. They look where the bite is and they move there. Nobody usually uses fish tracking devices and get up at random, at least professionals.
So when you want to go to sit in silence, it will not work even in winter, even on a pond, even in winter fishing.
But I'll tell you how it ended in the next part, or it's already too much paper and water ))))).
Going forward, I'll tell you that a scooter is not the perfect solution for fishing. There are disadvantages and advantages, just like any other technique. As a rule, any technique is selected for specific tasks, not the other way around. Rarely anything happens when you are looking for a way to occupy the existing technique.