An article in the newspaper VEDOMOSTI
Direct reference to the article https://www.vedomosti.ru/management/articles/2019/06/14/804147-inzhener-stroitel-snegohod
The story of 33-year-old Maxim Gnedov, the founder of the Snowbike Company, which produces light electric snowmobiles, is a series of inventions in various fields. Gnedov was given food for thought by numerous hobbies. Gnedov was born in Pochvistniewo, studied in Samara, then worked as an engineer for a short time to examine buildings and structures. While studying at the university, he and his friends took a great interest in fire shows, the guys performed at festivals, corporate parties, and weddings. But after the fire at the Lame Horse nightclub in 2009, they switched to safer LED props. They started experimenting with pixel potions. Poies are balls for juggling. The artist juggles with them, and the audience sees a three-dimensional picture in the air, Gnedov explains. Gnedov's technology was watched on the Internet. Together with a programmer friend, they began to make the balls themselves, the components were bought in China. In 2012-2013, they managed to sell 40 pairs of 30,000 rubles each – in Russia, India and even Colombia. But then the project was closed down – there was not enough investment, we tripped on expensive warranty service.
Gnedov's next idea was prompted by his passion for alpine skiing: "I have been snowboarding and skiing for a long time, I got bored. I saw a skibike in the USA (a bicycle that does not have a transmission, but instead of ski wheels. – "Vedomosti"), got interested, but it could not be bought anywhere. I made a ski bike myself, went for a ride and noticed that it attracts attention on the slope. Together with a few friends, Gnedov began to assemble in the basement workshop: frames were made by himself, and rudders, skis, and saddles were bought ready-made. In 2015-2016, they sold 40 skibikes for about 20,000 rubles apiece.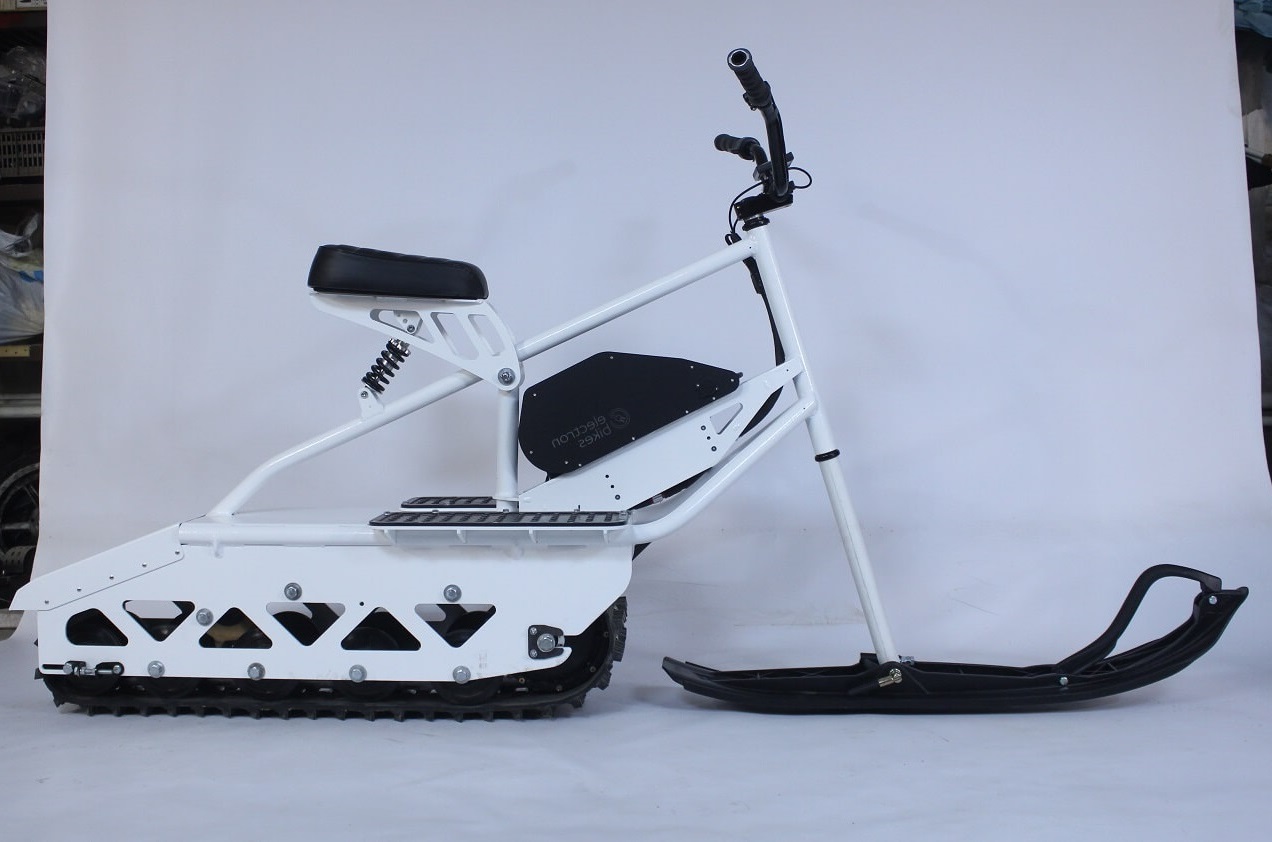 Plus pedals
"We were told it would be nice to pedal to our snowmobile to get up the hill. We thought the idea was crazy at first, but then we decided to try it," Gnedov said. It was in the U.S. that tracked kits appeared to convert motorcycles into snowmobiles. The guys decided to put a tracked mechanism in front of the ski, behind the track. They knew about the new trend – the spread of electric transport. And decided to make a prototype of a small electric snowmobile – to be laid out and placed in the trunk.
At the end of 2015, the guys applied to the Foundation for Assistance to Innovations (Bortnik Foundation). And they won a grant under the Start-1 program – 2 million rubles. "We didn't even have a prototype at the time, just a model," Gnedov recalls. Sergei Polyakov, the Foundation's general director, notes that Maxim has created "an absolutely applicable thing". The target audience ranges from employees of nature reserves and gamekeepers in places where the use of an internal combustion engine is undesirable, to special-purpose troops where silence is one of the main requirements for equipment.
Gnedov was registered by Snowbake LLC. And the whole year of 2016 was spent on the development of the prototype. The highlight is that the engine body has special hooks and it rotates the caterpillar itself without intermediate crankshafts, chains, and other rubbing parts, Gnedov says. This makes it possible to make more compact devices and do without lubricants.
There are three people in Snowbaik's staff: Gnedov himself, an electrical systems specialist, and a 3D modeling and mechanics specialist. Two more employees (a welder and a designer) work freelance. Salaries make 35 000-50 000 rbl. in a month. Batteries (the most expensive component of an electric snowmobile) are assembled by the Samara company – the manufacturer of complete sets for electrification of bicycles.
The prototype was driven at a speed of 15 km/h. "We tested electric snowmobiles in Samara's parks, choosing small ones so that they wouldn't be annoyed with questions. Passers-by were wondering, nobody understood how the car drives: no engine is visible, no emissions and no noise," recalls Gnedov.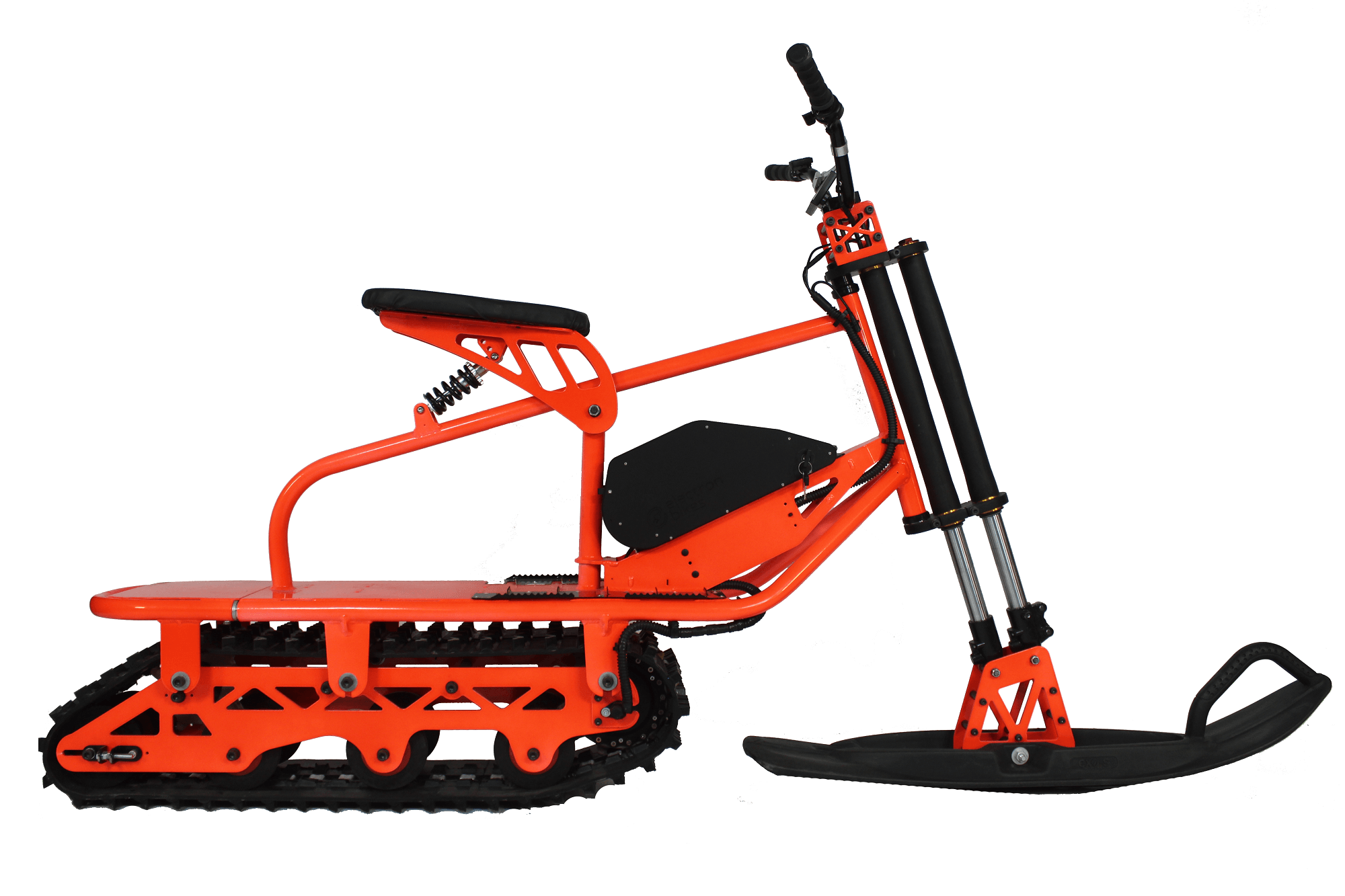 We're short on gasoline.
An electric snowmobile is a good thing that attracts attention. The Bortnik Foundation began to invite the guys to the exhibitions at its booth. "Snowbike took part in Open Innovations, Startup
The village, as well as the Army, a major technical military forum. "It's not easy to work with the military. They have a tender system for procurement, very high requirements for reliability and passability. At the exhibition, we approached different types of troops, found managers and talked about our equipment. We were told that it was easier to get there by a tank. Eventually, we were interested in special forces. But we couldn't sell anything," he said.
According to estimates by Russia's largest manufacturer of snowmobiles, Russian Mechanics, about 17,000-18,000 snowmobiles of all brands will be sold in the country in 2019. Alexander Kryuchkov, deputy general director of Russian Mechanics for commercial issues, said that now electric models are 1.5-2 times more expensive than models with internal combustion engines. They cannot compete with classic machines in terms of power, speed, cross-country ability and controllability. And their batteries cannot operate at low temperatures (below minus 35 degrees Celsius), which is critical for the northern regions, explains Kryuchkov.
Snowbikes are designed for rolled snow and snowdrifts not exceeding 30 cm. The most powerful model, which Gnedov's team managed to make, drives at a speed of 38 km/h and weighs 80 kg. On average, the snowbikes run 30 km without recharging, but if you constantly drive up the mountain and on the loose snow, the distance will be shorter. The snowmobile battery is designed for temperatures of at least minus 15 degrees Celsius, Gnedov said.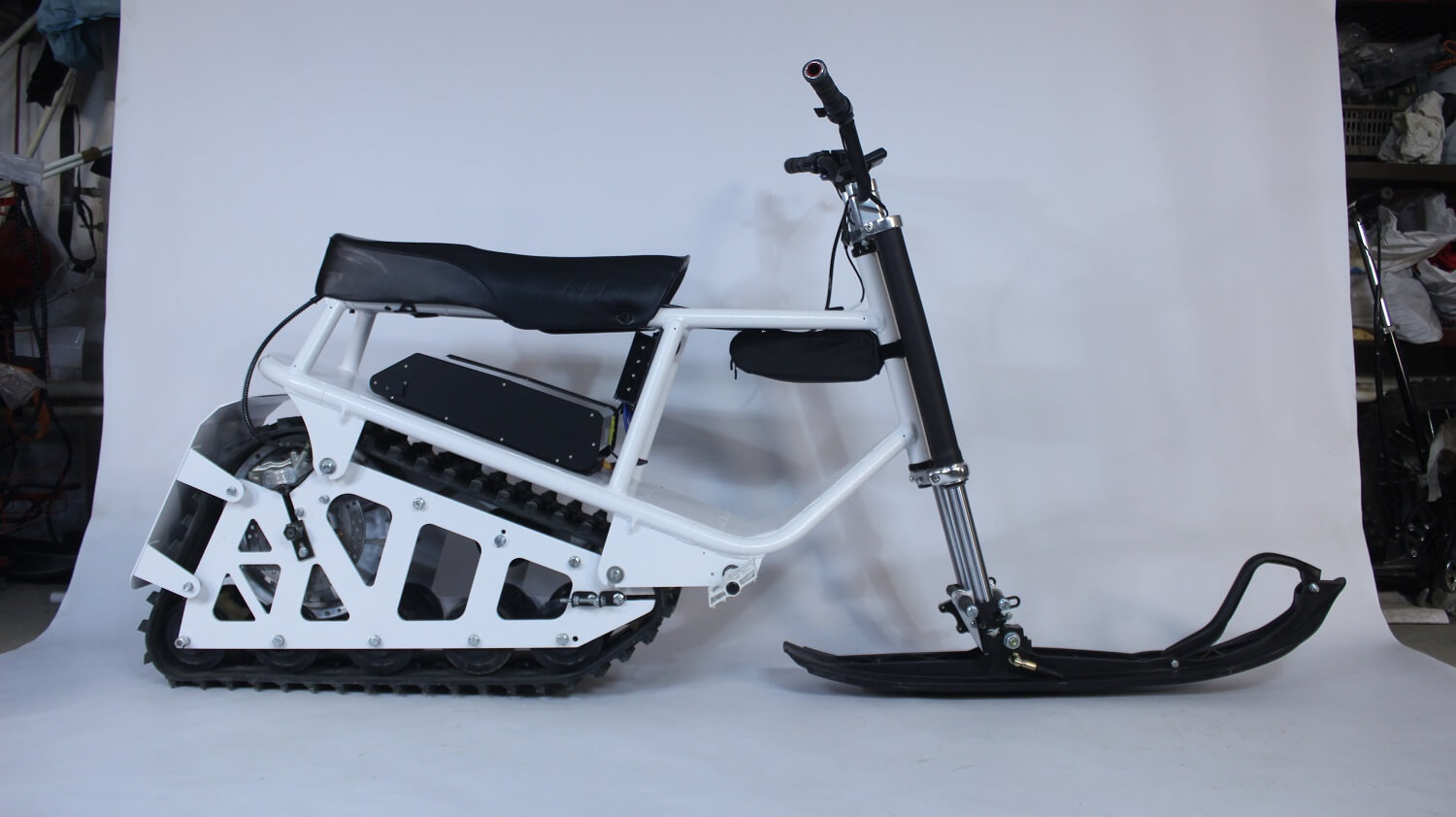 A technocrat toy
Sergey Potekhin, General Director of Grasys Machine Building Company, already has a fat bike – an electric bike with thick wheels. He calls it cool but says it can't drive on a snowy road. Potikhin wanted to drive through the woods in winter so that the car was electric and not as bumpy as a normal snowmobile. It turned out that nobody in the world makes such equipment. Potekhin searched everywhere, found only Snowbike and bought the novelty from the company in December 2018 for 210,000 rubles. Potekhin ordered the most powerful battery in the company. The guys wanted to supply the most advanced controller (to make the engine run more smoothly), but for technical reasons, it was not possible – the usual one was supplied. The car drives 15 km without charging. "Driving all winter, walking the dog at the same time. Good entertainment," says Potekhin.
250,000 foreign and domestic snowmobiles are now in operation in Russia, according to Russian Mechanics.
Buyers of electric snowmobiles either already have an electric bicycle or they just love the technical innovations. Wealth – average or above average. For the average user, the product is expensive: the cheapest model costs 170,000 rubles, the most expensive – 300,000 rubles.
In February 2017, the company's product price was RUB 170,000, while the most expensive one was RUB 300,000. Gnedov carried out a crowdfunding campaign – collecting preliminary orders – on the Boomstarter site and received seven orders. In 2018, the company received seven orders. "Snowbike has already sold 15 orders. Orders come from Moscow, St. Petersburg, Perm, Kaluga and Yuzhno-Sakhalinsk. The guys can now assemble 5-6 devices per month, Gnedov says. In 2018, revenue amounted to 2.8 million rubles, gross margin – 45%.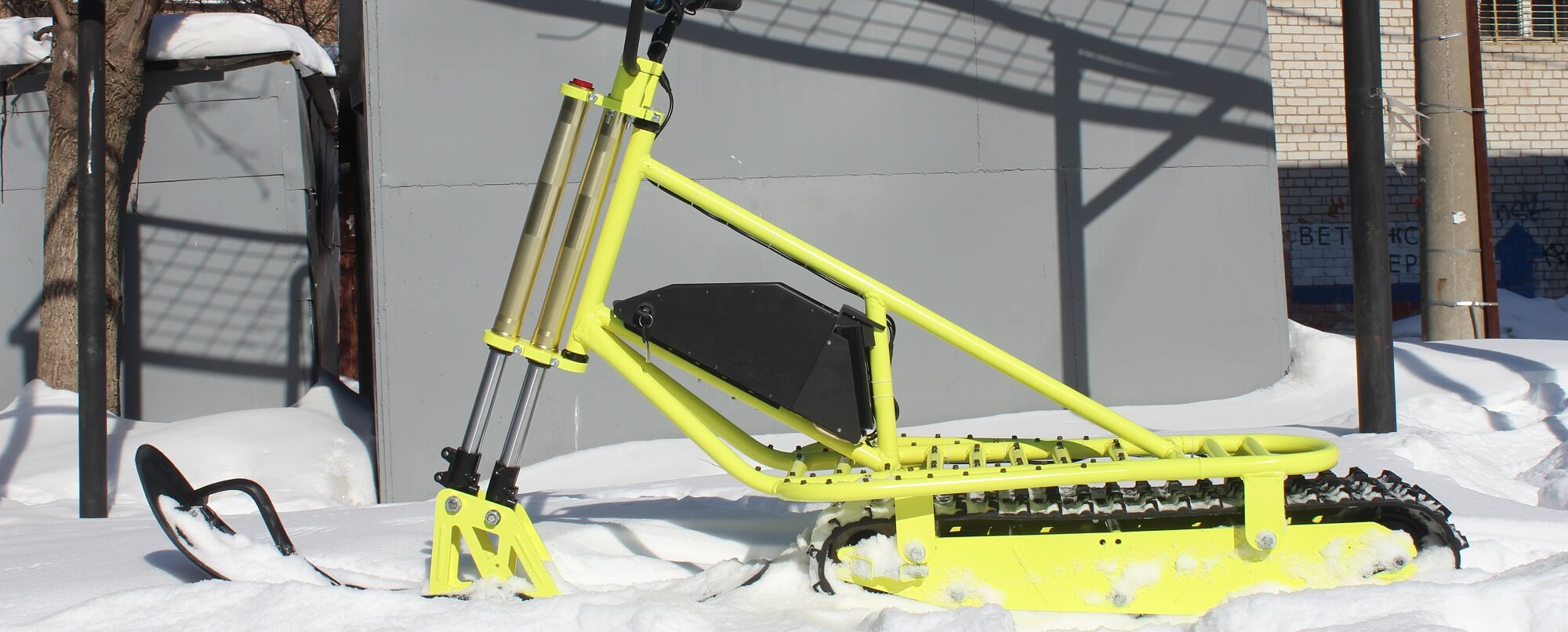 Gasoline plus electricity
Snowbikes cannot be considered a vehicle, Gnedov assures: technical characteristics are too weak. Therefore, it is not subject to the recycling fee and vehicle tax.
There is no document in Russia that defines what an electric snowmobile is. There are Soviet regulations for gasoline snowmobiles, but snow bikes do not meet the design requirements (brake on the left, gas on the right). That's why SnowBike certifies the devices as prototypes and draws up a contract not for delivery, but for the modification of the device.
How to certify? Either as a means of small mechanization or as a sports tool, Gnedov believes. Certification is needed not so much by individual customers as by corporate customers. Corporations will tell you how to certify a machine if they understand that the device is really necessary for their business, he is sure.
Gnedov considers all producers of gasoline snowmobiles to be his potential partners because sooner or later all vehicles will become electric. The entrepreneur has already turned to Russian Mechanics with a proposal to conduct research and development for the electrification of the company's younger snowmobile models. "Russian Mechanics was interested in the idea, bought one snow bike and tested it, Gnedov said.
According to Kryuchkov, Russian Mechanics is engaged in the electrification of its equipment, primarily ATVs has already produced a prototype of an electric vehicle. She talks about R&D with Bauman Moscow State Technical University, Snowbike, and other developers. According to Kryuchkov's estimates, in 3-5 years 5-7% of off-road equipment in Russia will be electric.
The Russian market is small, and Snowbake plans to go abroad. In 2017, the company received a patent in Russia for the use of a motor-wheel to rotate the caterpillar, then filed an international application, and on June 12 filed an application for Canada and the United States. However, Snowbake has competitors in the global market. For example, the Canadian company Taiga Motors, founded in 2015, is now collecting pre-orders for the Taiga TS2 snowmobile at a price starting at $15,000. The speed is up to 100 km/h, the range is up to 100 km without recharging. In order to compete with them, says Alexander Gorny, the managing partner of United Investors, Snowbaik needs to seriously engage in marketing and, possibly, turn to accelerators of the world's largest car manufacturers